Re-posting for the third Show Off Your Stuff Party!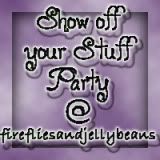 ________________________________
I went shopping today. The stuff went home to my new apartment, I did not, so I do not have actual pictures of it, online store photos will have to work! Keep in mind that this was the scheme I was going for (I threw the rug out after a horrendous night of sick-puppy messes):
Here is what I got as far as big things for the bedroom described in
this post
:
Floor Lamp: I was going to get the one on the
left
, but decided to get the one on the
right
(much pinker in person) for $10, which was $10 cheaper the the one on the left. Both are from Target.
Nightstand Lamp:
$17 from Target
, the shade is kind of boring, but I figured there must be some way to decorate it! Any ideas that are safe from lighting a fire?
I bought something like
this
, only it is skinner, the white outside part is dark purple, it has a further indented top so that things can sit on it, and this one only cost me $10 from Walmart. It is going to be used for storing bath products, hair products, makeup, hair dryer, straightener, curling iron, combs, brushes, etc. That will clear up two drawers of the dresser that is already owned, and I will not be buying the one I blogged about earlier.
I got the panels on the
left
for the window ($20 for two panels). I got ones like the ones on the right, but different. The ones I got are not listed. They are for my closet, two panels for around $20.

So all in all, I spent about $120 after getting a tension rod, curtain rod, blinds, and other minimal things. Not too bad. What I was not able to get was alarm/CD player/radio combo, a new rug, something that hangs in the closet for shoes, and wall art.

How did I do?