Editing, and bringing back to the top, for Fireflies and Jellybeans' Show Us Your Stuff Party!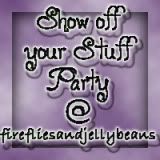 ________________________________________________________________
Welcome to the first post here at The Craft House that actually consists of me (Jennifer) doing something! I don't have pictures of the actual process of making over the desk, but I have before and afters! The next project will definitely have between pictures!

I needed a desk, desperately, and so I hit garage sales and Craigslist in the hope of finding one on the cheap side! I lucked out and found one for free that was hand-made by the old owner completely of wood, not the fake crap that stores sell claiming it as furniture. The desk had it's issues, but nothing that couldn't be fixed.

The second picture is what the "legs" of the desk look like at the bottom. I think it is a pretty, feminine design. Needless to say, the chipped paint would need to be fixed.

I got all of the supplies that I needed at Lowes for about $60. That included the paint, primer, sand paper, brushes, and paint stripper.

I later bought new hardware for the desk, I found seven knobs at Lowes for $20.

After hours of stripping the paint, sanding the wood, priming and painting the desk, and finally replacing the drawer knobs, here is how it turned out:

I love it! I did have an issue where the paint took forever to dry completely to where things sitting on top of the desk didn't pick up paint when taken off of it. So, now, the top of the desk could use a touch up.

The is one other thing: the previous owner had a child who apparently loved stickers to the point that they decorated the inside of the drawers... all seven of them.

Is there a way to cover them up? As you can see, the stickers are on the on the inside bottom of the drawer as well as the inside "walls" of the drawers.

Overall, I loved this makeover!